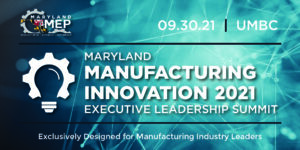 September 30 event at UMBC will focus on latest opportunities,
READ MORE »
Finding, training and retaining talent remains the number one challenge identified by manufacturers across all industries and all areas of the State. MD MEP is committed to addressing this need through the development and deployment of strategies that impact all levels of the workforce.
The MD MEP team provides training, consulting, financial and technical assistance related to skills development, talent acquisition and training. Additionally, our team has expertise in the development and implementation of programs related to onboarding, assessment, Registered Apprenticeship and organizational development.
At MD MEP, we work with local manufacturers to identify and evaluate need, develop a cohesive strategy to meet the talent need and coordinate and leverage resources to build the workforce you need. We look forward to assisting you with:
Leadership Development
Human Resource Planning and Compliance
OSHA Guidance
Registered Apprenticeship Programs
Onboarding and Assessments
Training
Financial Assistance