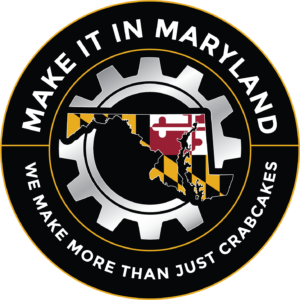 Currently, there are more than 4,000 manufacturers in Maryland who employ more than 110,000 workers state-wide and contribute nearly $25billion to our state GDP. As an industry we must do better to ensure our legislators, friends, stakeholders and the communities we live and work in understand the importance of manufacturing to Maryland's economy and to our future.
With this in mind, we created the Make It In Maryland program to promote Maryland manufacturing, connect industry leaders, and tell the amazing stories of the manufacturers who are proud to call Maryland home.
The Make It In Maryland program focuses on highlighting the importance of Maryland manufacturing through three main efforts – Collaboration, Awareness, and Education.
Through past events and insight from industry leaders, we have seen the true value that collaboration has on the manufacturing community. Providing opportunities for like-minded individuals to collaborate and connect with one another, talk about their experiences, and discuss new ideas or lessons learned has proven to be invaluable for creating lasting relationships and strengthening the Maryland manufacturing community as a whole.
If you are part of the Maryland manufacturing community, then you know – Maryland makes a lot of really cool things! However, manufacturers, as a whole, struggle to tell their stories and make the general public aware of all the amazing companies who call Maryland home. These manufacturing companies provide endless opportunities for workforce development providing individuals jobs, the ability for solid career paths which help them provide for their families and be proud of the hard work they do on a daily basis.
To help Maryland manufacturers tell their stories and generate more awareness around the industry, we have created several initiatives to shed a shining light on the companies and individuals that are proud to Make It In Maryland.
As industry leaders, we are tasked with educating the next generation about career opportunities manufacturing can provide. It is no secret the manufacturing industry is with a massive skills gap and labor shortage, which has only been exacerbated by the COVID-19 pandemic. As a community, it is on us to ensure young adults and students are exposed to the career possibilities manufacturing can provide.
JA BizTown – STAY TUNED FOR MORE INFORMATION!
The Make It In Maryland program is for all Maryland manufacturers, big or small! The diversity among the products made in Maryland and the industries represented is part of what makes Maryland manufacturing so great and we want each and every one of them represented! 
In order to participate, you must have:
A valid manufacturing NAICS code
a physical manufacturing facility
at least 1 employee
located in Maryland
WHAT IS THE COST TO PARTICIPATE?
There is NO COST to participate in the Make It In Maryland program!
Apply – manufacturers interested in applying to the program must complete the application form
Approval – applications will be reviewed to ensure information is complete and your manufacturing company has a physical location in Maryland
Once approved, you will receive notification that you have been accepted as well as a 'Proud to Make It In Maryland' badge for you to proudly display on your website, social media and or other materials. Additionally, an MD MEP team member will coordinate delivery of your 'Proud to Make It In Maryland' banner.