THE FUTURE IS NOW, REALIZING THE PROMISE OF INDUSTRY 4.0:
Maryland MEP's Strategic Plan to Ensure a Competitive Future for Manufacturing in Maryland

Manufacturing in Maryland is an often-overlooked sector contributing to Maryland's leading advanced industrial base. While manufacturing is not as highly concentrated in Maryland as in other states, the industry is a foundational pillar of the state's economy that consistently generates high-paying, family-sustaining jobs, drives wealth generation and economic growth through intensive exports, and adds high value through innovative product development. State manufacturers serve diverse global markets in food and agribusiness, protect the nation and serve strategic interests in aerospace and defense systems, improve quality of life in biopharmaceutical and vaccine production, and build homes by delivering high-quality wood products. These are just some of the areas in which more than one hundred thousand Marylanders contribute their skills and expertise each day across each region in the state.
For Maryland manufacturing to remain competitive and continue to drive outsized economic and innovation returns for the state and its residents, the industry must be prepared to embrace a digital future. Manufacturers globally are both preparing for and already implementing a digital transformation toward "smart" manufacturing that will have vast implications for industry competitiveness. This transformation is so significant that some have heralded its arrival as the Fourth Industrial Revolution, or "Industry 4.0." While the earlier Industry 3.0 leveraged the digital revolution of the late 20th century to embed computers and robotics into single processes or machines, Industry 4.0 is utilizing a new wave of technologies to fully automate processes and decision-making across the production life cycle.
Maryland's Manufacturing Industry Represents:
109,000 jobs across all regions with avg. wages of nearly $84,000
4,170 business establishments
$27.6 Billion in GSP
$9.1 Billion in employee compensations
$39.8 Billion in annual exports
7 diverse clusters, markets served
Major innovation driver: accounts for 10% of GSP but 75% of industrial R&D
Source: TEConomy Partners' analysis of Emsi, 2021.2 data sets.
As one would expect from such transformational technology, Industry 4.0 has significant implications for all facets of the manufacturing ecosystem, including innovation, supply chains, infrastructure, the workforce, and even customer engagement—implications that will have tremendous impacts on state and regional competitiveness. 
RECOMMENDED STRATEGIES AND ACTIONS TO ENSURE A COMPETITIVE FUTURE FOR MARYLAND MANUFACTURERS
Establishing resources for starting the Industry 4.0 journey for Maryland manufacturers.
Addressing the barriers and challenges to Industry 4.0 technology adoption and integration.
Strengthening intra-state supply chain connections.
Seizing emerging manufacturing industry and market opportunities.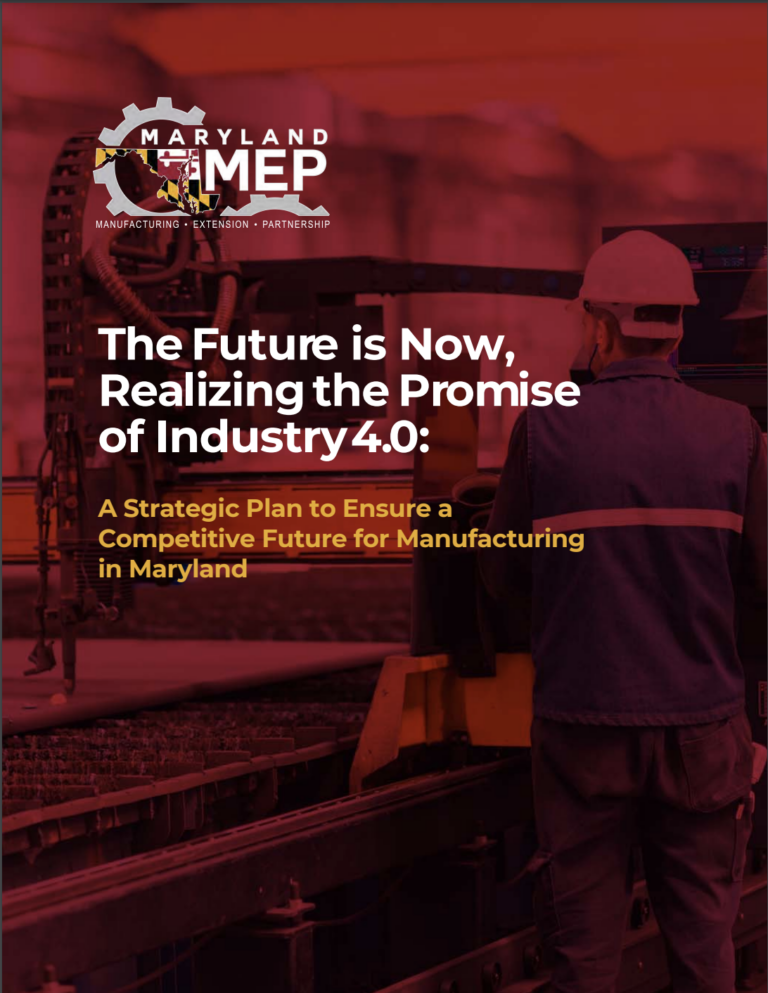 Complete the form below to download the strategic report