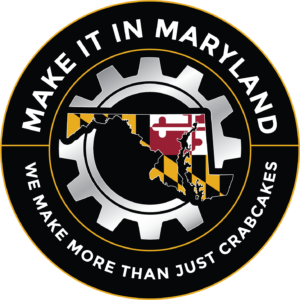 SHOW OFF YOUR MARYLAND
MANUFACTURING PRIDE!
'Proud to Make It In Maryland' is a social media campaign to highlight manufacturers and tell the story of manufacturing in Maryland. MD MEP's goal is to get a 'Proud to Make it in Maryland' banner hanging in every manufacturing facility in Maryland! Photos, images and stories will be shared through social media platforms and other media channels to raise the level of awareness of manufacturing in Maryland.
Additionally, an MD MEP team member will coordinate the delivery of your 'Proud to Make It In Maryland' banner will arrive within two weeks.
HOW TO PROMOTE YOUR MAKE IT IN MARYLAND PRIDE
Snap a photo! – Once you receive your banner, we request that you snap a photo of your team with the banner. Get as creative as you would like – show off your facility, the products you make, etc.!
Hang the Banner & Share – Hang your banner inside of your manufacturing facility and post a photo to your social media platforms! Get creative, include your team members, products, and have fun!
Be sure to tag the following:

Facebook, Twitter, LinkedIn – @MDMEP
Instagram – @Make It In Maryland
Include the  #MakeItInMD hashtag!

Additionally, please email a copy of your photo to: Danielle Moran at  dmoran@mdmep.org
Follow Us – be on the lookout for stories, promotions, photos and help us promote Maryland Manufacturing!