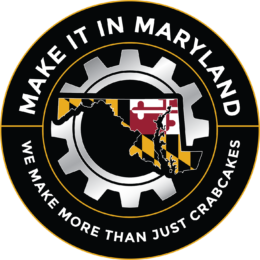 SHOW OFF YOUR MARYLAND
MANUFACTURING PRIDE!
MD MEP's new Proud to Make It In Maryland campaign is part of our larger Make It In Maryland initiative, designed to promote manufacturing and tell the stories of the manufacturers who are proud to call Maryland home. Currently there are more than 4,000 manufacturers in Maryland that employ more than 110,000 workers state-wide that contribute nearly $25billion to our state GDP. As an industry we need to do better to ensure our legislators, friends, stakeholders and the communities we live and work in understand the importance of manufacturing to Maryland's economy and to our future.
The Proud to Make It In Maryland campaign will allow us to collectively demonstrate our commitment to manufacturing in Maryland and to share images, videos and examples that showcase the breadth and diversity of the manufacturers in our state.
The Proud to Make It In Maryland is a social media campaign to highlight manufacturers and tell the story of manufacturing in Maryland. MD MEP's goal is to get a Proud to Make it in Maryland banner hanging in every manufacturing facility in Maryland! Photos, images and stories will be shared through social media platforms and other media channels to raise the level of awareness of manufacturing in Maryland.
Any manufacturer that has a valid manufacturing NAICS code, and a physical manufacturing facility with at least 1 employee located anywhere in Maryland.
There is NO COST to participate in the 'Proud to Make It In Maryland' movement!
WHAT IS REQUIRED / WHAT IS THE PROCESS?
Apply – manufacturers interested in applying to the program should complete the short application form
Approval – applications will be reviewed to ensure information is complete and your manufacturing company has a physical location in Maryland
Display – once approved, you will receive notification that you have been accepted and an electronic 'Proud to Make It In Maryland' badge for you to proudly display on your website, social media and or other materials. Your 'Proud to Make It In Maryland' banner will arrive within two weeks.
Hang the Banner & Share – Hang your banner inside of your manufacturing facility and post a photo to your social media platforms! Get creative, include your team members, products, and have fun!
Be sure to tag the following:

Facebook, Twitter, LinkedIn – @MDMEP
Instagram – @Make It In Maryland
Include the  #MakeItInMD hashtag!

Additionally, please email a copy of your photo to: Danielle Moran at  dmoran@mdmep.org
Follow Us – be on the lookout for stories, promotions, photos and help us promote Maryland Manufacturing!
GET YOUR MAKE IT IN MARYLAND BANNER TODAY!
Complete the application form below to be part of the Make It In Maryland movement!