10-YEAR ECONOMIC
IMPACT REPORT
A DECADE OF SUPPORT
FOR MARYLAND MANUFACTURERS
Founded in 2013, the Maryland MEP has served as the convenor of industry for the last decade, and we are excited to celebrate our 10th Anniversary supporting Maryland Manufacturers through the delivery of programs, services and activities designed to grow the manufacturing ecosystem. We have seen our industry change and adapt and grow. I am very proud of the Maryland MEP, our team and most importantly our partners and clients that have continually shown that Maryland is home to some of the most innovative, resilient, and capable manufacturing organizations in the world.
Client-Reported Project Impacts
Gathered by the Fors Marsh Group via Independent Survey; Verified by U.S. Department of Commerce
Over the last ten years, the Maryland MEP has worked with nearly 300 manufacturers to deliver more than $2 Billion in economic impact and the creation and retention of more than 8,000 jobs! This performance has made the Maryland MEP a top-performing organization in the MEP National Network, ranking #2 out of 51 Centers for Return on Federal Investment.
590 Projects   |   286 Maryland Manufacturers   |   $2.2 B Economic Impact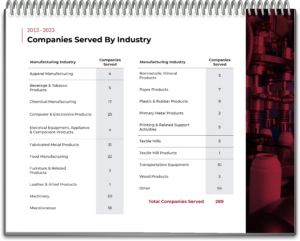 Maryland MEP 10-Year
Economic Impact Report
Download the full report for a comprehensive overview of the impact of Maryland MEP's services, programs and initiatives on the Maryland manufacturing community.
Client-Reported Engagement Impacts
Gathered by the Fors Marsh Group via Independent Survey; Verified by U.S. Department of Commerce
Over the last four quarters, Maryland MEP has delivered more than 250 projects to over 170 Maryland manufacturers
 resulting in the following impacts: