MFG Day shows the reality of modern manufacturing careers by encouraging thousands of companies and educational institutions around the nation to open their doors to students, parents, teachers and community leaders. MFG Day empowers manufacturers to come together to address their collective challenges so they can help their communities and future generations thrive.
Maryland MEP kicked off MFG Day 2022 and Maryland Manufacturing Month by bringing together over 180 Maryland manufacturers, industry leaders and university students at the Maryland Manufacturing Innovation Conference 2022 (MMI2022). The day was filled with engaging keynote speakers and breakout sessions focused on leadership and strategic growth, workforce development, technology, and continuous improvement.
Special thank you to Todd Marks, Founder, CEO and President of Mindgrub Technologies for getting the day started! Todd captivated the audience with real-world examples of technologies and innovations that continue to change the manufacturing landscape and allow companies to work SMARTER.
Headlining the day was, Titan Gilroy, CEO of Titans of CNC. Titan shared his story of risking everything to follow his passion, despite various trials and tribulations, to ultimately build an industry-leading company, Titans of CNC, and the world's largest free CAD/CAM and CNC machine online trainings, Titans of CNC Academy.
Attendees took advantage of connecting with representatives from the most innovative technology solution providers at the MMI 2022 Technology Showcase. The showcase was filled with live demonstrations, videos, and conversations about the latest technologies and advanced manufacturing practices impacting the industry today.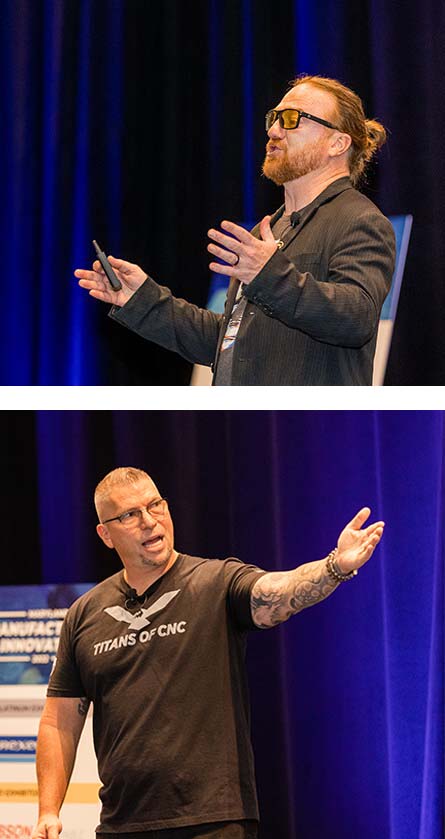 Thank you to all the sponsors, exhibitors, partners, and attendees for making MMI2022 such a great success! We look forward to seeing you next year at MMI2023!