On June 7, 2023 Maryland MEP and RMI hosted the first-ever Energy & Environment for Maryland Manufacturers (E2M2) Summit at the Hilton Baltimore BWI Airport Hotel. More than 100 manufacturers and industry stakeholders attended the Summit to learn manufacturing sustainability best practices, hear case studies in areas such as green energy, energy efficiency, and greenhouse gas reduction, as well as connect with one another. 
The E2M2 Summit began with a warm welcome from Mike Kelleher, Director of Maryland MEP and Dr. Mike Galiazzo, President of RMI. This introduction set the stage for a day of engaging and exciting content, as well as highlighted an evolving relationship with the Maryland Energy Administration (MEA). 
To kick off the day's agenda, attendees had the privilege of hearing from MEA Director, Paul G. Pinsky. Director Pinsky spoke about the Governor Moore Administration's goals and visions for energy efficiency and environmental best practices and programs.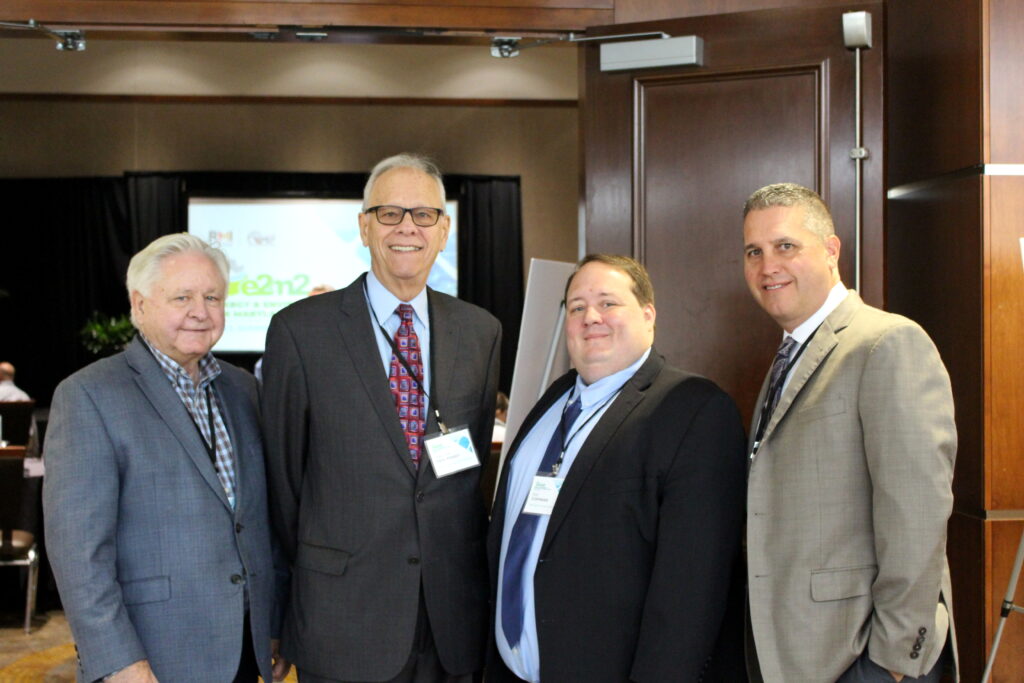 Following the address from Director Pinsky, Annie Sennet, President & CEO of Saft America, along with Michael Clarke, Environmental Health and Safety Manager, and Adam Murray, Director of Operations, presented 'Saft's "Program Net Zero" Initiative'. Saft America is a global energy provider and in this session, they shared details on how "Program Net Zero" aims to reduce their environmental impact to a minimum, while respecting social and human rights along the battery value chain.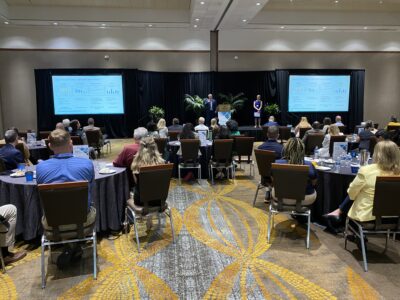 Next, Pamela Kalb and Richard Hogg, both Engineering Directors from Coty Inc. took the stage to present 'Beauty that Lasts: Coty's Approach to Sustainability'. Since 1904, Coty has fearlessly pioneered innovation across the beauty industry and now develops, manufactures, markets, and distributes fragrances, cosmetics, skincare, and nail care products. During their session, Coty discussed the corporate sustainability strategy, simple sustainability wins at their Hunt Valley manufacturing location, upcoming capital-intensive project plans, best practices and lessons learned along the way to becoming an industry leader in a more sustainable and inclusive world. 
Rounding out the manufacturer presentations was Scott Sanders, Owner of Tobacco Barn Distillery. Scott captivated the audience by highlighting his 'Small Manufacturing Sustainability Best Practices'. In this session, Scott shared how his farm-based Bourbon distillery in Southern Maryland uses its estate-grown corn and locally sourced Maryland ingredients to produce bourbon, whiskey and rum. Furthermore, Scott provided examples of how he is able to use a combination of solar, geothermal, and intensive water recycling systems as part of their commitment to protecting the environment of the Chesapeake Bay Watershed.
To address various programs and initiatives in place to help manufacturers in their sustainability efforts, Brandon Bowser, Section Chief, Clean Energy and Resilience at MEA presented 'State Resources for Energy and Environmental Improvements'. Brandon provided an in-depth overview of MEA programs that can assist Maryland manufacturers with the implementation of energy efficiency upgrades and install renewable energy systems.
Next, attendees heard from a panel of industry experts regarding the Offshore Wind opportunities for Maryland manufacturers. Panelists from MEA, Business Network for Offshore Wind, Orsted, and Maryland Department of Commerce addressed opportunities in the offshore wind supply chain, as well as available programs and resources for technical support and workforce training.
To close out the Summit, Mike Kelleher announced the new E2M2 Program. The E2M2 Program, funded by MEA and delivered in partnership with RMI and Maryland MEP, provides education, guidance, technical support, and assistance to manufacturers in navigating federal, state, and other incentives for the adoption of energy efficiency measures and renewable energy technologies.
Special thank you to all the attendees, session leaders, and our partners at MEA, Maryland Department of Commerce and NIST MEP, as well as our event sponsors, Dynamic Energy, Calvert County Economic Development, and Ellin & Tucker for their support in making the E2M2 Summit such a success.