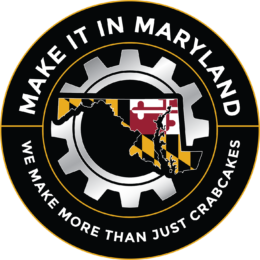 Maryland Manufacturing Videos
In addition to receiving a 'Proud to Make It In Maryland' banner, approved companies may have the opportunity to be featured in our new Manufacturer of the Month: Company Spotlight video podcast series.
Each month, we select a manufacturer to sit down with our Executive Director Mike Kelleher, to explain what manufacturing in Maryland means to you and your company. Being able to articulate and share why making it in Maryland is important to your company. This is a dynamic way to share your pride, passion and commitment for manufacturing in Maryland.
Face of Maryland Manufacturing
The Maryland MEP's Faces of Manufacturing Program is about telling the STORY of the men and women who work within the manufacturing companies that are proud to call Maryland home. Each of these individuals has a unique story to tell, whether it be from challenges they have overcome, dreams they have pursued or just pure passion for making things. We hope that the Faces of Manufacturing program can provide the platform for these stories to be told and a way to share the amazing work that is taking place here in Maryland.
Manufacturing provides opportunities for individuals of all races, genders, and education and experience levels to have an impact on the world through the production of goods. They may not have all taken the same journey to get where they are but they are all proud to be a part of the Maryland Manufacturing Community.
Maryland Manufacturing: Resilience Through COVID-19
MD MEP, along with our strategic partners, thank the Maryland manufacturers who created, produced, and provided essential supplies and PPE in the fight against the COVID-19 Pandemic. An overwhelming number of manufacturing companies took part in State programs, and we are proud to share several stories showcasing the resilience of Maryland Manufacturers
If you would like to have the chance to be featured in any of our Mary Manufacturing video series, then you must apply to enroll in the Make It In Maryland program!