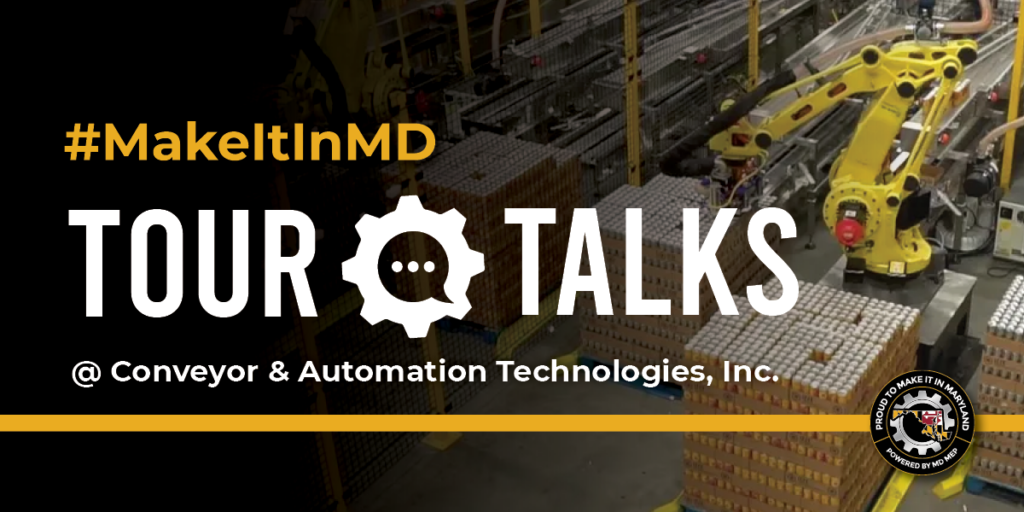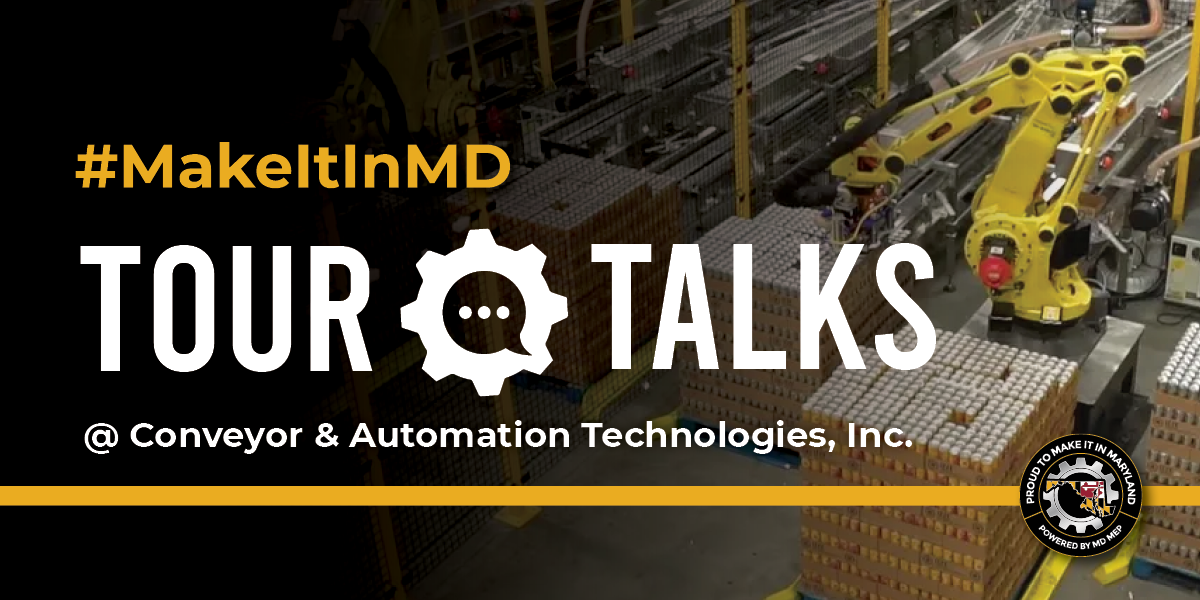 As part of the Make It In Maryland Program, #MakeItInMD TourTalks offer a unique opportunity to dialog with peers in the manufacturing industry about best practices, challenges and solutions to moving the manufacturing enterprise forward.  During #MakeItInMD Tour Talks, attendees will hear from the hosting company, receive a tour of the facility and network with other Maryland manufacturers.
"These events provide Maryland manufacturers with an inside scoop on what other manufacturers in Maryland are working to accomplish, while providing a great picture of what those companies are doing to help better their respective communities," said Michael Kelleher, Executive Director of Maryland MEP.
Please join us on October 25th at Conveyor and Automation Technologies. 
Conveyor & Automation Technologies Inc. specializes in understanding and implementing automated manufacturing for the food, beverage, and consumer goods industries.  As a Maryland manufacturer of conveyor and robotic systems, this woman-owned manufacturer works with customers to design efficient automated solutions that help improve production times and minimize downtime.  At their Sparks Glencoe, MD facility they manufacture stainless steel and mild steel conveyor, robotic palletizers, end-of-arm tools, and control panels, and integrate them with custom software to provide a turnkey solution for a nationwide customer base. Installation services, training, and after-sales support keep these systems functioning and allow all of their customers to depend less on the on-going workforce shortage and more on fulfilling orders. 
This  'TourTalk' event will provide an opportunity to meet the Conveyor and Automation team and learn from their design, engineering, and manufacturing process.
During the event, manufacturers in attendance will share and discuss how to scale automation solutions to their businesses. Additionally, attendees will have the opportunity to see robotics and automation in action via their Row Pick Robotic Palletizer, using a FANUC 410i 315 Kilogram Robot, as well as a FANUC CrX Collaborative Palletizing Robot and the FANUC BeerBOT.
Platform Aerospace is an industry leader in manufacturing, aviation modification and prototyping, and cutting-edge aerial ISR products, namely the VANILLA UNMANNED UAS – a World Record setting ultra-long flight endurance Unmanned Air Vehicle ISR platform with sponsorship from various DoD commands and NASA.
Platform Aerospace has the systems and engineering expertise to enable rapid development of aerospace systems and complete packages in any configuration.
12:00 – 1:00  |  Company overview by

Brian Read

,

Director of Quality Assurance at Platform Aerospace

– (lunch included)
1:00 – 2:00  |  Facility tour and networking
This event is limited to MANUFACTURERS ONLY!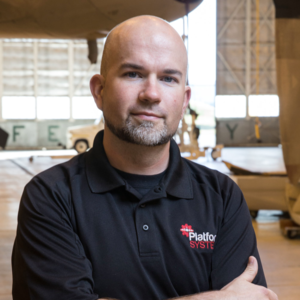 BRIAN READ
Director of Quality Assurance, Platform Aerospace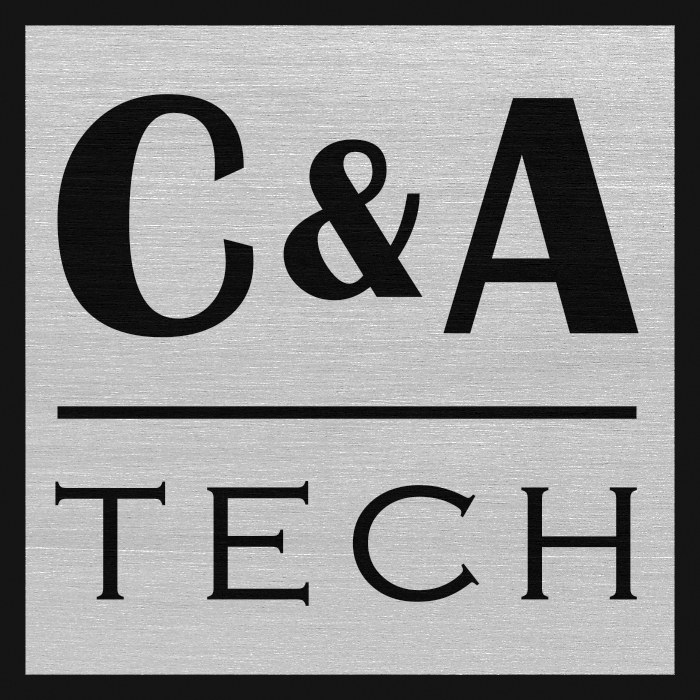 Wednesday, October 25, 2023
11:00 AM – 2:00 PM
Conveyor & Automation Technologies, Inc.


   66 Loveton Circle,
Sparks Glencoe, MD 21152
There is no cost to attend but you must register!
Attendance is limited to
MANUFACTURERS ONLY!
For questions regarding this event, please contact: