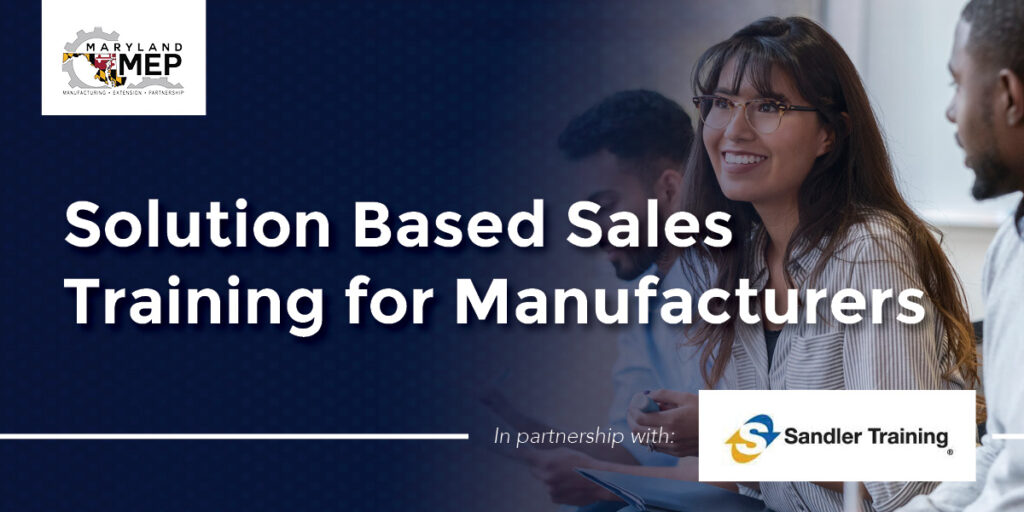 improve your bottom line revenue by training your sales people now!
MD MEP is excited to present this first-of-its-kind program combining world-class sales training delivered in a peer-group style format. Partnering with Van Sant Consulting to deliver the Sandler Sales Training methods, the program will teach attendees to have a process that is repeatable, efficient and effective for selling. The training will not only provide techniques, strategies and tactics to obtain goals, but also teach you to develop new attitudes and behaviors to excel your selling performance.
The program is a 10-lesson introductory course designed to give a complete overview of the Sandler Selling System® concepts, along with actionable steps that you or your team can implement from the first day to immediately improve performance. Additionally, training will be delivered in a cohort setting so participants will have the opportunity to meet and network with their peers and most importantly have the opportunity to share knowledge, best practices and talk through real-life examples and case studies to improve outcomes.
Participants will attend 10 sessions from August 11th through December 15, 2021 from 1:00pm – 4:00pm.  The first session of each month will be in-person and the second session will be held virtually via Zoom.  The in-person sessions will take place at the participating manufacturing companies and Maryland MEP.
Who Should Participate? 
This training program is intended for C-Level leaders and Sales decision makers
Session Topics include:
Session 1:

The Key to the Buyer Seller Relationship

Wednesday, August 11 (in-person)

Session 2:

The Key to a Sustainable Business Relationship

Wednesday, August 25 (virtual)

Session 3:

Ground Rules for Doing Business

Wednesday, September 8 (in-person)

Session 4:

Finding the Reasons to do Business

Wednesday, September 22 (virtual)

Session 5:

Questioning Strategies

Wednesday, October 6 (in-person)

Session 6:

Finding the Budget

Wednesday, October 20 (virtual)

Session 7:

Determining How Decisions are Made

Wednesday, November 10 (in-person)

Session 8:

Fulfillment, Post Sell, Clear Future

Wednesday, November 17 (virtual)

Session 9:

Improve Your Batting Average Prospecting Activities

Wednesday, December 1 (virtual)

Session 10:

The Success Triangle

Wednesday, December 15 (in-person at MD MEP)
August 11, 2021 – December 15, 2021 meeting twice per month from 1:00PM – 4:00PM
The first monthly session will be in-person and the second session will be held virtually
This training program will be a combination of virtual and in-person sessions held at participating manufacturing companies.
Manufacturers interested in participating in this program may be eligible for training reimbursement funds through MD MEP's Incumbent Worker Training Reimbursement Program:
MD MEP through the Maryland Department of Labor's EARN initiative has made funding available for Maryland manufacturers to help offset the cost of training for incumbent workers. MD MEP's Incumbent Worker Training Reimbursement Program is designed to be flexible and scalable to meet the unique needs of the company.  To be eligible for the program, organizations must be registered with Dun and Bradstreet and have a valid manufacturing NAICS code, a physical location in Maryland and provide all required project documentation (including the project impact survey).
Register 1 participant and receive $1,000 of reimbursement
Register up to 2 participants and receive $1,500 (per person) in reimbursement
For more information or to determine if you qualify for reimbursement, please contact: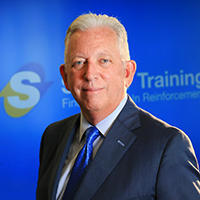 President, Sandler Sales Training
Larry combines real-life problem-solving experience, with coaching and communication, to provide solutions to the day-to day challenges faced by sales people, sales managers, and customer service professionals.
Larry has been a successful business owner and entrepreneur, professional speaker and trainer for over 25 years, delivering keynote addresses, management, and sales and communications skills training to small, mid-size, and Fortune 500 companies. Larry expertise can be leveraged to help professionals in any industry learn and implement a proven selling system that focuses not just on sales techniques, but on attitudes and reinforcement.